---
FOI InSight is a publication from the National Freedom of Information Coalition featuring and aggregating news and analysis about FOI and open government issues, and delivering items of interest to and about our state member organizations, partners and stakeholders.
We welcome suggestions for future newsletters and ask that you send us ideas for and links to news about your organization and other FOI and open government-related items and events.
---
2013 NFOIC/MLRC Open Government Survey Showed Troubling Trends for Transparency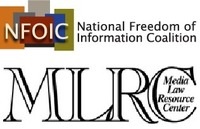 NFOIC's third biennial joint study with the New York-based Media Law Resource Center (MLRC) showed a continuation of trends that are troubling to open government advocates. Just as similar informal surveys in 2009 and 2011 had, the 2013 Open Government Survey found a substantial decline over the last two to five years in the amount of resources devoted by media organizations to FOIA and open government issues.
---
Obama Administration's Open Government Projects, round 2
The Obama Administration released a second round of open government initiatives, introducing nearly two dozen plans to stimulate or improve the government's interaction with citizens — from streamlining Freedom of Information Act (FOIA) requests to "participatory budgeting" mechanisms allowing citizens to guide public spending projects in their communities.
Best practices for agency Freedom of Information Act regulations
Of the 100 agencies in the federal government subject to the Freedom of Information Act (FOIA), dozens of agencies have not yet updated their FOIA regulations to reflect requirements in the Open Government Act of 2007. FOIA regulations should be easy for both requesters and agency staff to understand and should promote transparency by highlighting existing practices in federal agencies. The Obama administration has committed to developing common FOIA regulations and practices applicable to all agencies. This report is designed to be a practical guide for the administration and agency staff engaged in improving FOIA regulations and practices.
Booz Allen Hamilton and the "trade secrets" FOIA exemption
MuckRock is in the middle a massive project looking into Edward Snowden's former employer, mega-contractor Booz Allen Hamilton. After reviewing some redactions from responsive contracts received from the FCC, MuckRock's Michael Morisy was curious about the consultation process on exemption 4 (trade secrets) redactions. So he filed another FOIA for processing notes and emails. The back-and-forth between the FCC and Booz Allen Hamilton is both instructive and potentially redemptive of the FCC. Their lawyers give Booz Allen Hamilton legal considerable deference and a generous amount of time to review responsive records, but ultimately release the documents as required even without their final go-ahead since Booz Allen Hamilton took too long to respond.
Policy changes on fee waivers
If President Obama and leaders in Congress are serious about strengthening the Freedom of Information Act (FOIA), they would do well to strip away some of the discretion agencies have to determine which requesters seek information "in the public interest " and are "likely to contribute significantly to public understanding." In a well-written and well-documented report in Newsweek called entitled "Muzzling the Freedom of Information Act," Pulitzer Prize winning journalist/author David Cay Johnston reveals trends and tendencies that are making it more expensive for authors, editors, producers, writers, and publishers to uncover government secret.
Newspaper goes to fed court over reporter's notes
A Washington newspaper has asked a federal judge to force the Coast Guard to return any documents and copies of records it seized from a reporter while searching her home last summer as part of a gun investigation involving her husband. According to Hudson and court records, Special Agent Miguel Bosch seized Hudson's records in August while he was at her Maryland home with state police investigators searching for guns and related items owned by her husband, a civilian Coast Guard employee.
EFF: FBI should release surveillance justification document
The Electronic Frontier Foundation asked a three-judge panel of the U.S. Court of Appeals for the District of Columbia Circuit to order the Federal Bureau of Investigation to disclose a legal opinion it used to justify a past telephone records surveillance program because other agencies may still be relying on the document for surveillance justifications. The EFF filed a Freedom of Information Act request for the OLC opinion in February 2011 and later filed a lawsuit after the DOJ rejected its request.
Media outlets push FISC for info on secret government surveillance
Reporters Committee for the Freedom of the Press filed the amicus brief with Foreign Intelligence Surveillance Court, alongside Bloomberg, The New York Times, The Washington Post, Courthouse News Service and 21 other media organizations, pushing the FISC to reveal the government's attempted justifications of its program of collecting the call and email data of Americans. The brief takes aim at a Sept. 13 ruling in which the FISC found that the ACLU and its D.C.-based Nation's Capital chapter alone had standing to seek the release of precedential FISC opinions that underlie the National Security Agency's surveillance programs.
---
Santa Fe judge rules that audit of New Mexico mental health providers can remain confidential
State District Judge Sarah Singleton in Santa Fe agreed with Attorney General Gary King's office in a lawsuit by the New Mexico Foundation for Open Government seeking to force disclosure of the audit, which the state used to freeze Medicaid payments to the behavioral health providers. Judge Singleton has ruled that government agencies don't have to disclose an audit of more than a dozen mental health providers under investigation for possible overbillings and fraud, because the audit contains law enforcement materials that are confidential.
In settlement with FAC, LA County Jail releases inmate visitor log, agrees to relax secrecy rule
As part of a legal settlement with the First Amendment Coalition, the Los Angeles County Jail has agreed to pull back its veil of secrecy on the identities of persons who visit incarcerated public officials. The jail's prior policy had been to withhold—on grounds of privacy-protection–the names of visitors to all jail inmates. Going forward, the state's biggest jail will apply a "presumption" of access when the requests (made under the Public Records Act) relate to public officials.
NEFAC Open Government News for November
New England First Amendment Coalition joined 38 other groups, including The Associated Press and the White House News Photographers Association, in the latest challenge to this disturbing trend of the diminishing public view, calling on the White House Press Secretary, Jay Carney, to improve their policy towards photojournalists who are continually being denied access to photograph or videotape the President while he is performing seemingly official functions at the White House. In the latest NEFAC Report: The Diminishing Public View, Barge? What Barge!? Oh, That Barge! Indiegogo Campaign Underway to Fund New England Fist Amendment Institute, and more.
California Supreme Court rejects Voice of OC and Californians Aware public records case
The state Supreme Court has rejected a request by Voice of OC and open-government advocates Californians Aware to review a gag order Orange County government leaders imposed on themselves so they wouldn't have to release information regarding allegations of sex abuse by a top county official. The case involved a Voice of OC request under the California Public Records Act for documents that would show what top county officials knew about allegations that former Public Works executive Carlos Bustamante sexually assaulted female employees.
Littleton voters restrict City Council's use of closed-door meetings
A city charter amendment, which passed with 74 percent of the vote Nov. 5, is much more restrictive than the Colorado Sunshine Law. It allows the City Council to meet behind closed doors for only two reasons.
Idahoans for Openness in Government objects to closed Twin Falls meetings
Idahoans for Openness in Government filed a complaint against the city of Twin Falls Tuesday, claiming city officials have repeatedly violated the state's open meeting law. The complaint stems from the city's use of closed subcommittees. The panels are made up of fewer than four City Council members, plus city staff and citizens. The groups make recommendations on who should fill open city positions and on city finances, for example.
---
Newtown 911 tapes released after court fight
Officials in Newtown, Connecticut, released recordings of 911 emergency phone calls from the shooting at Sandy Hook Elementary School on Dec. 4. Town officials initially tried to prevent release of the recordings. The state Freedom of Information Commission ordered seven calls placed from inside the elementary school to be aired. Late last month, a judge ruled the town must comply with the commission's order, and Newtown officials have since dropped their appeal. The Los Angeles Times examined legal issues, news judgments and public opinions in the aftermath of a court fight over release of Newtown 911 tapes.
Did South Dakota officials skirt open meeting laws?
When Rapid City school officials heard of the dust-up over the Pledge of Allegiance in Sioux Falls, they decided to get out in front of the issue. They had an informal chat among board members, and without any public input or discussion, approved a change in practice by adding the pledge to the beginning of every student's school day. Kenneth Bunting, executive director of the National Freedom of Information Coalition and director of the FOI Center at the Missouri School of Journalism, said no matter what name that is attached to the change, doing it behind closed doors is not in the best interest of the public.
ACLU and Center for Popular Democracy file FOIA lawsuit over efforts to limit municipalities' foreclosure prevention options
The American Civil Liberties Union and the Center for Popular Democracy today filed a lawsuit under the Freedom of Information Act (FOIA) to compel the Federal Housing Finance Agency (FHFA) to provide details about the agency's relationship with the financial industry and its efforts to block municipalities from using eminent domain to prevent foreclosures. The complaint, Alliance of Californians for Community Empowerment, et al. v. Federal Housing Finance Agency, was filed in the U.S. District Court for the Northern District of California. It was brought by the ACLU, the ACLU of Northern California, the ACLU of New Jersey, and the Center for Popular Democracy on behalf of a number of community groups across the country.
Records on Okla. prison reforms are released
Fifteen months after the Tulsa World requested public records relating to the now-gutted Justice Reinvestment Initiative, Gov. Mary Fallin's office has released more than 8,000 records related to the prison reforms. The World is reviewing thousands of records to uncover answers as to what happened to the much-heralded package of reforms aimed at curbing prison growth that quickly lost momentum — and funding — after the governor signed the law in May 2012.
AP files open records lawsuits against NM governor
The Associated Press filed lawsuits Thursday against Gov. Susana Martinez and administration agencies for refusing to release records about her work and travel schedules, cell phone calls and expenses of the security officers who travel with the governor. The lawsuits alleging violations of the Inspection of Public Records Act are the latest by media and watchdog groups against Martinez, who has promoted herself as a strong advocate of a transparent government.
'Giftgate' prompts ethics reform
Virginia has historically prided itself on its relative lack of government scandals. But recent events — namely when Gov. Bob McDonnell accepted significant gifts from Star Scientific CEO Jonnie Williams — have prompted concern over the state's system of ethical checks and balances, leaving some to question whether the law goes far enough in holding its governing officials financially accountable. This question was a highlighted at a statewide meeting of media organizations, where a panel of experts debated the solution to the ethics dilemma.
Wisconsin assembly leader backs online court records limits
The top lawmaker in the Wisconsin Assembly said he favors expunging unproven charges from the state's online court records system but expressed reservations about another bill limiting access to pending cases. Assembly Speaker Robin Vos, R- Rochester, said that he thinks cases in which people were acquitted should be removed from the Wisconsin Consolidated Courts Automation Programs, or CCAP.
---
Gene Policinski: 'When' and 'why' we need to hear 911 calls
Seven tapes of 911 calls from Sandy Hook teachers and staff at were released at 2 p.m. on Dec. 4, under a court order following a request by The Associated Press, which had sought the tapes' disclosure since the day of the shooting. There is a difference between having public access to such calls and the public broadcast or online posting of the calls themselves.
Deborah Fisher: Should execution drugs be a state secret?
Does the public have a right to know about the drugs used to execute death row inmates? This question has been raised in recent months in court in at least three states, two of which recently enacted new laws or protocols to keep secret from citizens the source of execution drugs.
Bill Lueders: Lawmaker contacts shouldn't be secret
Sandy Whisler, a retired educator in Lake Mills, had emailed four state legislators urging them to hold hearings on proposed bills to create a nonpartisan process for legislative redistricting — the redrawing of voter boundaries after every ten-year Census. All four lawmakers blacked out personal information like email addresses, home addresses and phone numbers. Sen. Mary Lazich, R-New Berlin went further, redacting names and places of residence from the 200 contacts she released. State legislators are already exempt from the records retention rules in place for all other state and local officials. But blacking out "Sandy Whisler" is another matter.
Charles Hill: Bills would help keep Michigan government honest
A bill proposed in the Michigan Legislature, House Bill 4001, would amend the Michigan Freedom of Information Act (FOIA) to make government spending information more accessible by limiting fees and discouraging delays. The Michigan Coalition for Open Government (MiCOG) strongly endorses the legislation, introduced by Rep. Mike Shirkey, R-Clark Lake, and says that the bill would help promote transparency and accountability in state and local government.
About NFOIC

The National Freedom of Information Coalition protects our right to open government. We are a nonpartisan alliance of citizen-driven nonprofit freedom of information organizations, academic and First Amendment centers, journalistic societies and attorneys. Twice annually, NFOIC

awards grants

to strengthen

state coalitions and member organizations

, foster their growth, and support a broad range of open government endeavors in individual states. The NFOIC also administers the

Knight FOI Fund

, which offers financial support to defray costs and expenses in open government lawsuits throughout the year.

All membership dues and donations are tax-deductible.
101 Reynolds Journalism Institute | Columbia, MO 65211 US