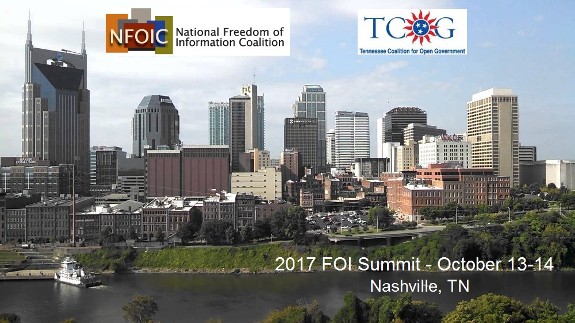 2017 FOI Summit
2017 FOI Speakers and Presenters
AGENDA
The First Amendment Center, Vanderbilt University
1207 18th Avenue, South Nashville, TN 37212
FRIDAY, OCTOBER 13 – MEMBER COALITION DAY
8:30 am – 12:30 pm
NFOIC Board Meeting (Board members only)
1:00 pm – Welcome/Announcements
1:15 pm – 2:00 pm – Knight Forecasting Freedom of Information Report – Why it faces problems- and how experts say they could be solved
Update on the March 2017 report commissioned by the John S. and James L. Knight Foundation to gain a better understanding of the state of public access to government records and to identify barriers to access and solutions
Presenter:
David Cuillier,Report author; University of Arizona associate professor; NFOIC board member
2:00pm – 2:30 pm– AP SunshineHub overview and demo
The AP is working on a collaboration platform dedicated to government transparency issues. SunshineHub is a web site that enables users to track transparency-related legislation from all 50 states and discuss transparency-related issues with journalists and freedom of information advocates from across the country.
Presenters:
Troy Thibodeaux, Data Science & News Applications Editor, Associated Press
2:45 pm – 4:00 pm – Tech Solutions for Tech Problems
Managing electronic public records in today's digital transformation tests the resources of most agencies. Could more technology be the solution? Hear from IT companies whose solutions are helping public record stewardship in the digital age.
Moderator: Michael Morisy, Co-Founder, MuckRock, and NFOIC board member
Presenters:
Ken Anderson, Vice President, Marketing, Smarsh
Tamara Manik-Perlman, Co-founder & CEO, NextRequest
4:15 pm – 5:30 pm – Building a sustainable organization
Strategies and techniques for your coalition to promote a sustainable financial base.
Moderator: Michael Reitz, Executive Vice President, Mackinac Center for Public Policy
Presenter:
Sarah Ruger, Director, Free Expression, Charles Koch Institute
Lisa Rosenberg, Executive Director, OpenTheGovernment
6:00 pm – 8:00 pm
Reception
Hosted by the Tennessee Coalition for Open Government and sponsored by The Tennessean and Adams & Reese LLP. Location: Adams and Reese LLP, 424 Church Street, Suite 2800 (Note: A shuttle will provide transportation to/from the reception. Those planning to remain downtown for the evening will need to secure return transportation.)
______________________________________
SATURDAY, OCTOBER 14 – OPEN GOVERNMENT DAY
8:00 am – Breakfast Buffet
8:30 am – 9:15 am
NFOIC Annual Membership Meeting
Organizational updates and reports
Presenters:
Mal Leary, Board President, National Freedom of Information Coalition
Mark Horvit, Treasurer, National Freedom of Information Coalition
Daniel Bevarly, Executive Director, NFOIC
Barbara Petersen, Chair, Futures Committee
9:15 am – 10:15 am – State Coalition Round-Up (Membership Meeting )
Brief reports from state coalition directors or representatives
Moderator: Daniel Bevarly, Executive Director, National Freedom of Information Coalition
10:30 am – 11:45 pm – State-level research
Discussion of recent public records research by state coalitions, including an analysis of Ohio Supreme Court public records decisions, examination of state laws regarding access to text messages, and New Mexico's recent open records compliance audit. Learn how they did it, lessons learned, and outcomes.
Moderator: Deborah Fisher, Executive Director, Tennessee Coalition for Open Government
Panelists:
Dennis Hetzel, President and Executive Director, Ohio News Media Associatio
Jim McLaughlin, Deputy General Counsel of the Washington Post, D.C Open Government Coalition
Peter St. Cyr, Executive Director, New Mexico Foundation for Open Government
12:00 pm – 1:30 pm – Hall of Fame Luncheon sponsored by the Charles Koch Institute
State Open Government Hall of Fame Induction: Michael Giudicessi, Partner, Faegre Baker Daniels LLP (IA)
1:45 pm – 3:00 pm – Trends in State FOI Litigation
A discussion of the trends in state-level public records litigation, including access to email, "reverse" public records cases involving third parties, and fee-shifting.
Moderator: Lucian Pera, President, Tennessee Coalition for Open Government; Attorney, Adams & Reese LLP
Panelists:
Katie Townsend, Director of Litigation, Reporters Committee for the Freedom of the Press
Frank LoMonte, Executive Director, Brechner Center for Freedom of Information
3:15 pm – 4:30 pm – Transparency in government when a private entity is involved
Increased government involvement with private contractors, and the intersection with the state's public records laws.
Moderator: Jeff Roberts, executive director, Colorado Freedom of Information Coalition
Presenters:
Kelley Shannon, executive director, Freedom of Information Foundation of Texas
John Williams, Attorney, TCOG board member
Miranda Spivack, Journalist and Visiting Professor in Journalism at DePauw University
4:30 – Closing Remarks and Adjournment